Your entire HR data strategy delivered with One Model
Step 1. All your data loaded into One Model.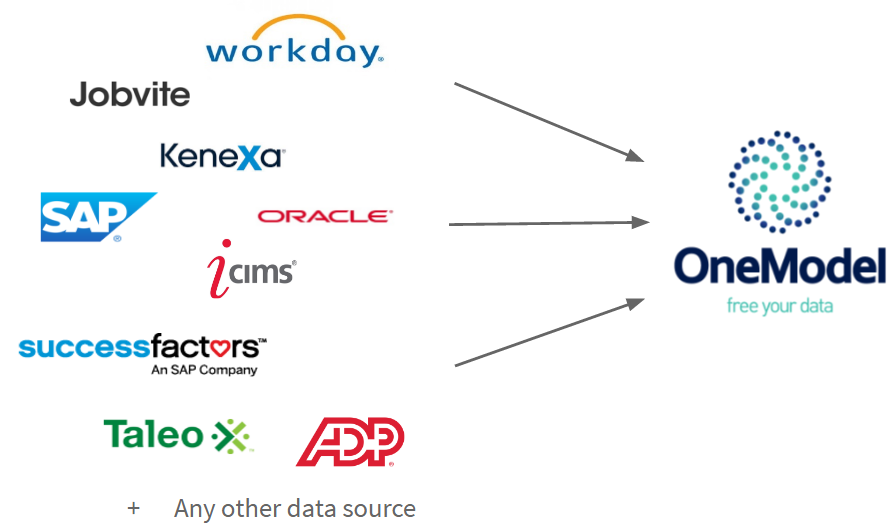 Cloud Vendors
Loaded in minutes with a direct API connection
Synchronized with the source in near real-time, alternatively you can choose your own schedule.
We build new connections daily so long as it will be used again we'll build the connection without cost to you.
All maintenance owned by One Model
We're partnered with the leaders in the space giving unfettered access to support and release updates
Typical Sources Include - SuccessFactors, Workday, ADP (Workforce Now and Vantage), Oracle HCM Cloud, iCIMS, Taleo, Jobvite, SmartRecruiters, Greenhouse, MyStaffingPro, Cornerstone, Kenexa, Fairsail.
On-Premise
We provide the work plan and any necessary scripting directly to your HRIT team minimizing any load and objections on your team.
We can talk through any delivery requirements, and access points required with the technical team. We'll make sure they are happy with the approach and can accommodate common requirements for delivery, schedule, and security.
Typical Sources Include - SAP, Oracle, PeopleSoft, Lawson, home grown systems.
All Other Sources - HR, Business, and External data
If you can get data to a file we can ingest it, automate it, or allow you to upload at will. We can assist with identification of how to access and automate any data that you wish to load.
Automate through SFTP
Direct upload into the solution to update data at will
Create your own data sources without having to involve One Model staff (we're here to help though).
Step 2. Model data to be contextually understood
This is the insanely difficult part that other vendors don't provide and internal BI teams struggle to comprehend. People data is the most complex data set in the organization and the team at One Model have seen more data across more organizations than anyone else in the world. We understand all the behaviors of your HR data and provide configured data models out of the box for your technology landscape. Our modelling engine understands the data at hand and can intelligently join multiple sources together and present them as if the data came from a single source. That's right multiple HRIS, ATS, talent management systems all merged and operating as if they were the same system. It's not magic, it's the application of decades of experience.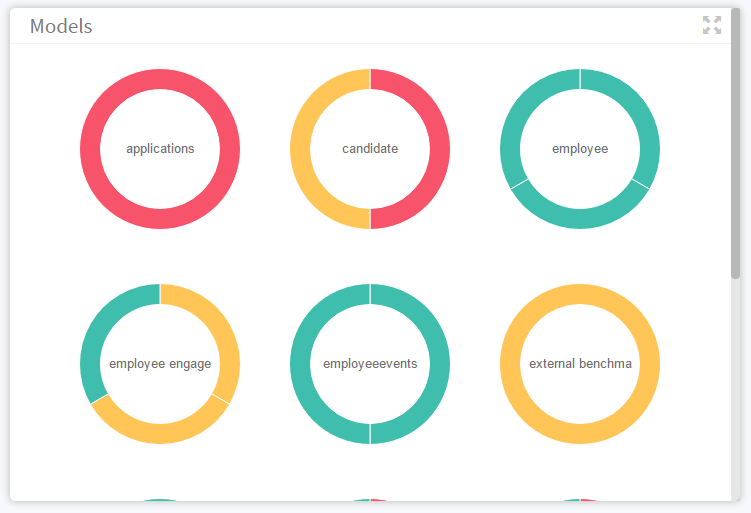 Data models delivered for every HR subject area
We get you up and running
Fully customize-able by the customer without any services requirements
Create models from scratch for bespoke data sets and have them automatically connect with the rest of the data set auto-magically
Cleanse and transform data as it flows through the data pipeline
Step 3. People Analytics Nirvana
Our modelling engine works in tandem with our calculation engine to deliver a robust, highly customize-able reporting, hr analytics, and dashboarding framework. With the most advanced role based permissions of any analytics application you can deliver people analytics far and wide within the organization.
Want More?
This is basic capability, how we can quickly get you off the ground with all your data. The cool stuff is yet to come.
Data Augmentations
You've got a great clean data set now let's drive some additional value into it. Augmentations are modular programs designed with a focus purpose to extend the data set, create advanced algorithmic calculations, and incorporate machine learning for effortless prediction. Outside of One Model an analyst with enough time and tenacity can build these pieces themselves but they never truly become part of process until they are repeatable. Augmentations run as part of the data pipeline, whenever data changes these advanced elements are run. Advanced analytics can then truly become part of process. Start with our algorithms and easily adapt to your own needs.
Quality of Hire
Cost of Turnover
Attrition Risk / Retention Risk / Flight Risk (it's all the same to us)
Commute time data extension
Candidate quality prediction
Employee data collection (coming in '17)
Materialize tables for direct connection
Multiple models can be created to version test
Customer requests welcomed
Feed clean data to external destinations
Congratulations on your beautifully clean, well constructed data set! This data is going to be in demand.
Put it to work and feed data out to external destinations whether that is a software or service vendor, your own data science team, or a snapshot backup of data. No need to build heavy integrations for these activities anymore now you can rapidly create a feed and have the data scheduled to send on any basis you like.
Great to support
Survey Vendors like Culture Amp, Glint, Kanjoya
Talent Management Vendors like SuccessFactors, Workday, Cornerstone
Internal data science teams that need feeds of data
External Analytics and Planning software as required e.g. IBM Talent Analytics, Anaplan, Opt Force
Connect external applications
Want to use your own toolsets for hr analytics, easy we're an open system designed to make it easy for the everyday user but support the needs of power users.
Plug in any product that can connect to a database using ODBC/JDBC connections.
Excel
Tableau, Qlikview
SPSS, SAS, IBM Talent Analytics
Integration tools, Informatica, Boomi
SQL tools to write your own sql queries