Talent Acquisition Analytics
$99
per month
additional users $49/month

Reporting, Analytics, Benchmarking across all your Taleo data!
A complete data and analytics infrastructure specifically built for Talent Acquisition and Recruiting departments. Get up and running with complete measurement in a matter of hours, we take care of all of the heavy lifting. Complete catalogues of metrics, analytics, dimensionality, reports, and dashboards ready for use. Benchmarking across peer companies coming soon in early '17
Recruiting Efficiency
Requisitions - Opened, Closed
Open Requisitions
Applications - Created, Rejected, Qualified
Applications by Step - Interview, Background Check, Assessment
Offers Made, Accepted, Rejected
Recruiting Speed
Time to Fill
Time to Step
Time to Offer Accept
Applications per Interview
Interviews per Hire
Cost of Hire
Recruiting Effectiveness (HRIS)
Quality of Hire
Promotion Rates of Applicant Sources, Interviewers, Assessment Scores, etc
Employee Performance by any Recruiting element
Time to productivity
Performance of Candidate Sources
Advanced Job Distribution
Pay only for applications received!
Access more passive candidates
Control your budget, reach, and automate distribution using your data
Full analytics to compare performance to traditional job boards
Measure, track, and improve your recruiting.
Easily create reports, dashboards, and new measurements
Pay per Application Job Distribution
Find Applicants, Faster and Cheaper than traditional Job Boards
Use your own recruiting Analytics to distribute your jobs to our network of 1500+ job publishers. These job publishers are the owners of websites, blogs, and content that is being consumed by your target hires. Put your jobs on their sites just like in the banner ad-block below for Director Talent Acquisition
Control Reach, Spend, and Automate distribution with Analytics
Set a Budget knowing how much each application will cost and how many candidates the job will reach
Set rules using ATS data and analytics to distribute jobs e.g.

If the Job is older than 7 days and has less than 3 applications -> distribute to network
If the Job has an applicant with an offer received -> stop network distribution
How does it Work?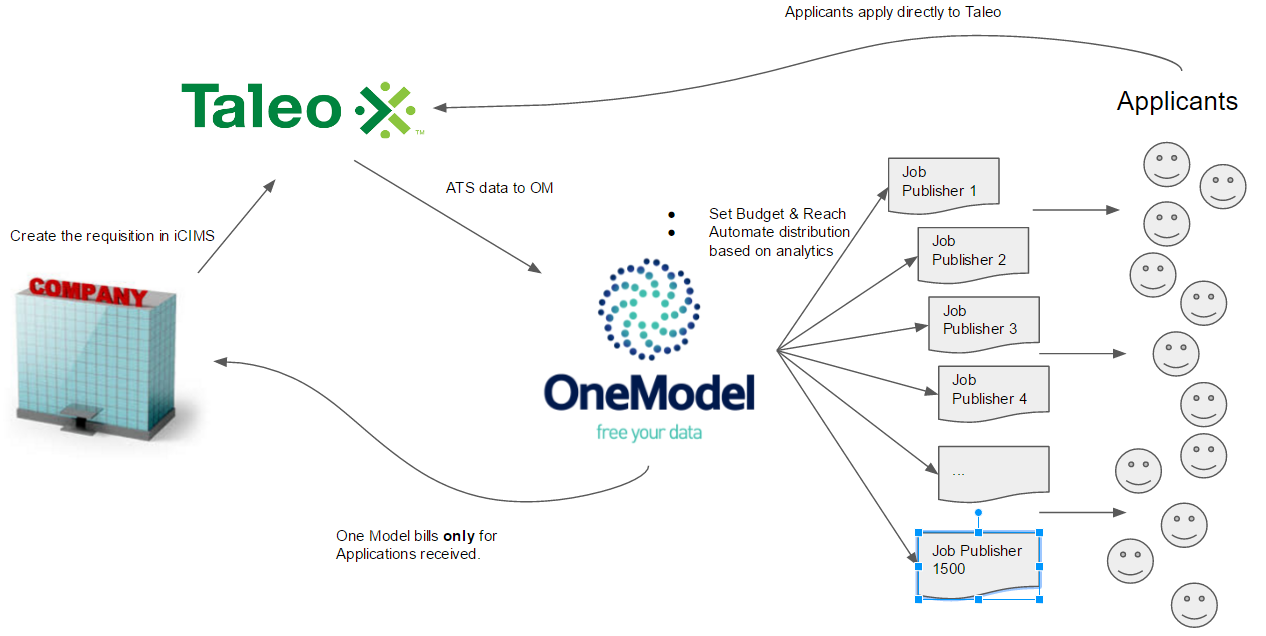 Let's do this!
Talent Acquisition
$99
per month
additional users $49/month
Daily data refresh
Public data
Benchmark metrics & dimension catalogue
Create your own metrics
Dashboards & Reporting
Pay per application job distribution
Benchmarking*
We're readying for release in December 2016, build slots will be limited in the initial roll-out and will use a queue system.
Contact us now to hold your place in line, and if you are one of the next 3 SuccessFactors Recruiting customers you will have the opportunity to implement prior to release for free.
Need to measure recruiting effectiveness?
Expand to include the HRIS, Survey, Payroll, Talent Management, Learning, etc