Here at One Model, we are the best in the world at orchestrating and driving insight from the dozens of internal systems that our customers use to manage their workforces. What our customers don't get from their internal workforce data, though, is the valuable context that external labor market can provide.
Who are you competing with for talent and how much they are paying?
What is the demand for specific roles in your location(s)?
Who you are losing talent to and are they leaving for career advancement?
There's a host of use cases for people analytics, but many more teams and functions have also been getting value from labor market data including recruiting, talent management, compensation planners, workforce planners, and corporate strategy. For all of these groups, the need includes both internal and external data, and, critically, they must be able to work together.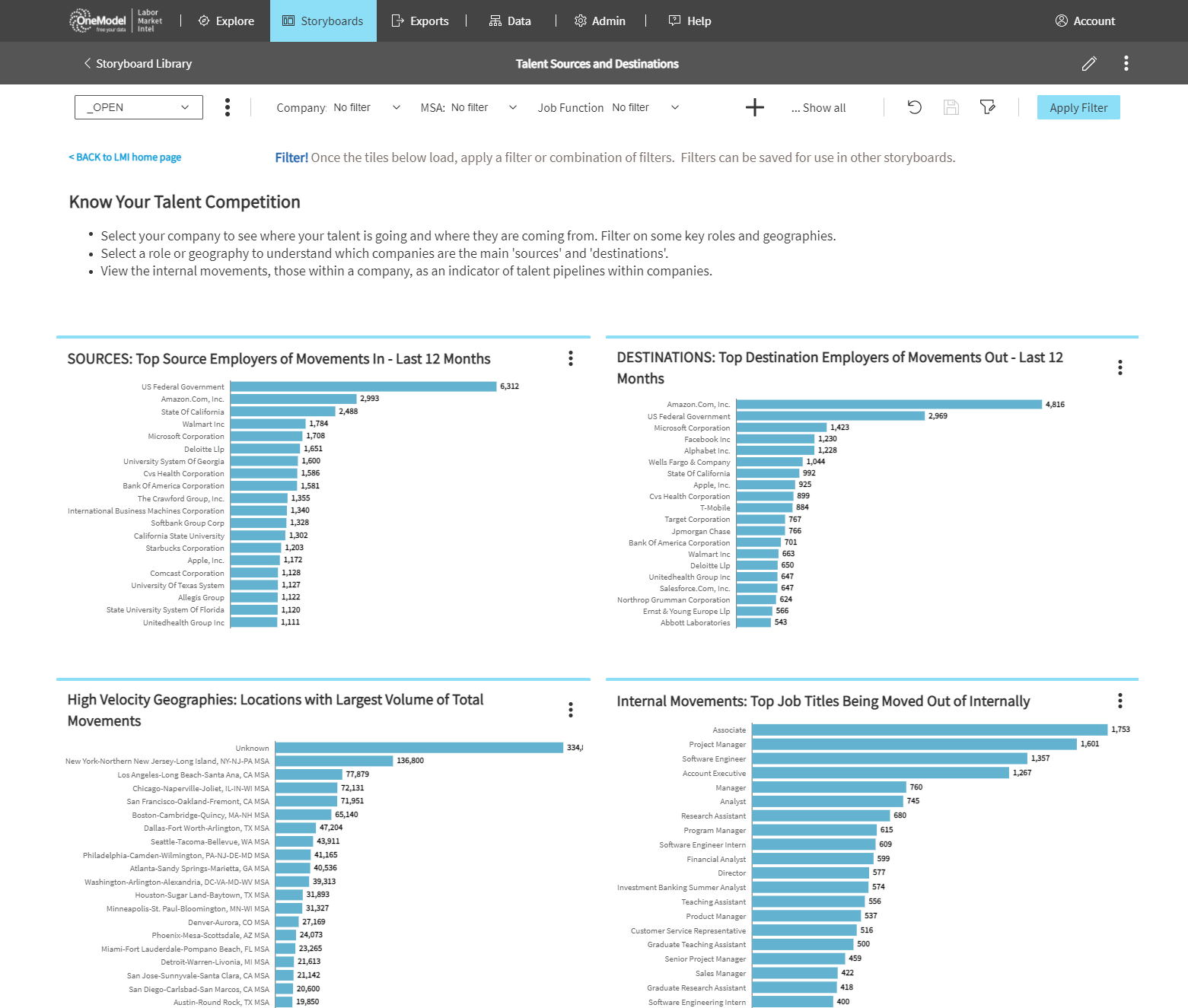 Labor Market Intel was created to serve that need, delivering market supply and demand data in granular detail and with incredible flexibility!

Since we are using our award-winning people analytics platform, we are able to provide external market data in curated standard content AND offer you and your team the ability to create your own custom storyboard content and strategic views. This is what One Model was built for.
Labor Market Intel is being sold as a stand alone product and for One Model Enterprise customers this will offer an ability to integrate and link external market context to their internal data which we already manage. External data can then be incorporated into storyboards, metrics, and, crucially, into predictive analytics through our One AI automated machine learning engine.

Through storyboards and predictive modeling that blend internal and external data, we think you can imagine the step-change impact.
Check out the short video below:
As mentioned in the video, our Labor Market Intel tool delivers a very granular view into supply and demand in a series of insight-driving storyboards to support varying use cases in People Analytics, Recruiting, Location Section, Corporate Strategy, and more. We go far beyond other products by offering the ability to create your own customized content to fit their needs, removing the need for all the copy-pasting into presentations and exporting to Excel.
How LMI can drive immediate value for different teams:
People Analytics - deliver insights on market dynamics that are impacting recruiting & retention and/or supporting workforce planning & strategy projects.


Recruiters & Recruiting Agencies - develop recruiting strategies for specific roles, determining where the talent is located, what other companies are posting for similar roles, and which skills are emerging. For agencies, market insights can be used to create more successful bid proposals.


Location selection - compare cities based on availability and cost of key roles, view which companies are active in the market, and how talent is moving between firms.


Corporate Strategy - monitor the hiring of competitor firms to determine if they are expanding or contracting, and what skills, roles, and geographies they are focusing on.

Let us share more with you?
Attend the launch webinar - launch webinar click here
A demonstration video is available on our LMI product page
Fill out the form below and we will contact you with more details about our new Labor Market Intel product or our flagship People Analytics platform (or both!)