People analytics deals with extremely sensitive information. We rely on it as a critical ingredient for the business to gather insights into employee performance, satisfaction, and engagement. However, our desire to solve business problems with people data presents profound security risks. Any approach to securing workforce data that is short of the maximum effort puts your entire organisation at risk. Let's dive into the risks and explore why One Model is different from others when it comes to an effective HR data security policy in this space.
Why Is Data Security Important in HR?
Human Resources handles sensitive data.
HR departments handle sensitive and confidential data every single day, including employee personal information, salary data, facility tracking, performance reviews, etc. This data is critical to the success of any organisation, and it must be protected from unauthorised access (internal) or breaches (external).
HR security breaches can get you in regulatory hot water.
Personally identifiable information (PII) is subject to many laws worldwide (e.g., GDPR, CCPA, etc.). As an example, a data breach could result in costly consequences for your businesses under GDPR — 4% of your global revenue or $20 million (whichever is more) — which is an especially dire prospect for small- and mid-size enterprises.
Security breaches result in employee distrust and profit loss.
One of the primary risks associated with HR's adoption of people analytics technology is the potential for data breaches. Employee data is stored in centralized databases and third-party systems which are both vulnerable to cyberattacks. As the amount of data collected by your organisation grows, so do the risks. Data breaches can result in losing sensitive employee information, including Social Security numbers, dates of birth, addresses, and other sensitive PII. When this information leaves the safety of your proverbial data dam, the affected individuals are put at risk for identity theft and fraud. These affected employees could take legal action which could result in penalties and other unappealing consequences. While it's difficult to put a monetary value on the org's reputational damage, a breach of employee data might impact your ability to hire and retain top talent.
For these reasons, One Model refuses to just "check the box" on security. Instead, we've built one of the most robust HR data security policies in the industry.
One Model's Holistic Approach to HR Security and Privacy
Modern technology applications are complex. One Model places privacy and security of HR data at the core of our business model. Our People Data Cloud™️ implements all of the industry's best practices around processes and technology. One Model's holistic security strategy encompasses security around our people, our operations, and our technology. Our HR data security policy focuses on maintaining confidentiality, integrity, availability, privacy, authenticity, and accountability for all One Model assets.
One Model's information security strategy is focused on providing measurable capabilities that:
Articulates enterprise risk as it relates to information management and privacy controls.
Provides senior leadership with the guidance, processes, and tools to manage risk.
Provides mechanisms for allowing access to One Model computing assets while minimizing risk to those assets both inside and outside our client organizations.
Demonstrates live to leadership and customers that One Model computing assets are secure.
Integrates security services that provide value directly to One Model customers and provides process definitions that we can leverage to increase efficiencies and productivity.
Provides privacy-focused guidance and design for all architecture (i.e., network, software, etc.) groups, including standards, models, and parameters for security design and acceptable technologies and techniques.
Provides professional audit and investigative capabilities that support regulatory requirements and mitigate the risk of potential vulnerabilities.
Check Out These
Human Resources Security Policy Examples
Secure Software Development Lifecycle
The principles of security and privacy by design were followed throughout the creation of the One Model application. All One Model developers follow the Secure Software Development Lifecycle which includes, but is not limited to, the involvement of our security team throughout the DevOps process, the use of static and dynamic application security testing tools, manual code review, etc.
Elaborate Security in the DevOps Process
Security is the first step in our DevOps process and is embedded at every stage. By following the principles of SecDevOps, we build secure and reliable applications that meet the needs of our customers while also protecting their data and sensitive information. Below is an overview of the steps we follow in this process.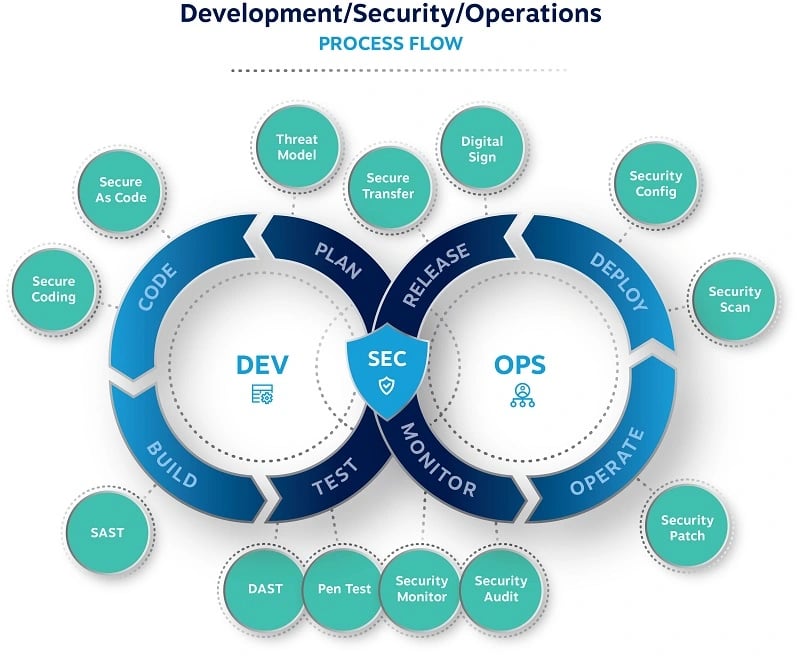 Amazon Web Services
One Model's infrastructure was designed with defense-in-depth principles. One Model currently uses Amazon Web Services (AWS) for our infrastructure and leverages a Security Operations Center (SOC) and a Security Information and Event Management (SIEM) platform, with 24/7 monitoring of the One Model environment. We also have expanded our server regions to keep your data in your preferred country.
Security Awareness and Training
Security awareness, training, and education ensure that all One Model staff are apprised of the current threat landscape and equipped with the tools required to recognize potential security incidents and respond. This is accomplished via security awareness notifications and regular training and education. (Also, I do have to admit that it is really fun tricking my colleagues with fake phishing emails).
Open Web Application Security Project
The Open Web Application Security Project (OWASP) is widely considered the gold standard in web app security. OWASP is a non-profit that focuses on improving software app security, providing guidance, tools, and resources to developers and security professionals. At One Model, we are integrating many OWASP tools and resources into our development processes. By leveraging OWASP's guidance and expertise, we can build stronger, more secure applications and provide our customers with the peace of mind their data is safe and secure.
Best Practices for Data Security in HR
To mitigate the risks associated with people analytics and ensure the security of HR data, organizations must implement best practices for data security. Here are some key steps you can take:
Implement strong data security policies: Develop clear policies that outline the proper handling and storage of employee data. These policies should include data access, encryption, and retention guidelines.
Conduct regular security audits: Regular security audits can help identify vulnerabilities in the organization's data security practices and ensure that all data is properly secured.
Limit data access: Limit access to employee data only to those who require it for their job. This can help reduce the risk of data breaches and ensure that authorized personnel only access employee data. If you're using a generic BI tool, you definitely can relate to this issue - Read Build vs Buy Whitepaper.
Train employees on data security: All employees who have access to employee data should receive regular training on data security best practices. This can help reduce the risk of accidental data breaches and ensure employees know their role in protecting sensitive data.
People analytics can provide valuable insights into an organization's workforce but poses significant security risks. By taking these steps, organizations can mitigate the risks associated with people analytics and protect the sensitive data of their employees.
---
Would you like us to speak more to your security concerns?
Schedule a conversation with us.
---