One Model customers receive regular product release updates, but it's been a little while since the last broader blog post, so let's chat about what's been happening with the One Model product recently.
One maxim I feel holds true for all business, but particularly product management is that a proven track record matters more than promises. One Model's product development velocity is formidable and I'm super proud of the One Model team and thankful to our great customers for their ideas, active collaboration and partnership.
Geo-mapping
The big news early in 2020 was our new User Experience (UX) and Storyboards framework. This has been warmly embraced by customers and really made a difference to how people analytics are deployed to decision makers. Leaning into the new UX we delivered a new geo-mapping capability that became particularly important through 2020 given the massive shifts in how work gets done and understanding where everyone lives and works. The One Model data platform really came into its own as customers were loading unique data to help deal with the massive changes underway (e.g. data such as targeted employee surveys, office occupancy, collaboration etc.)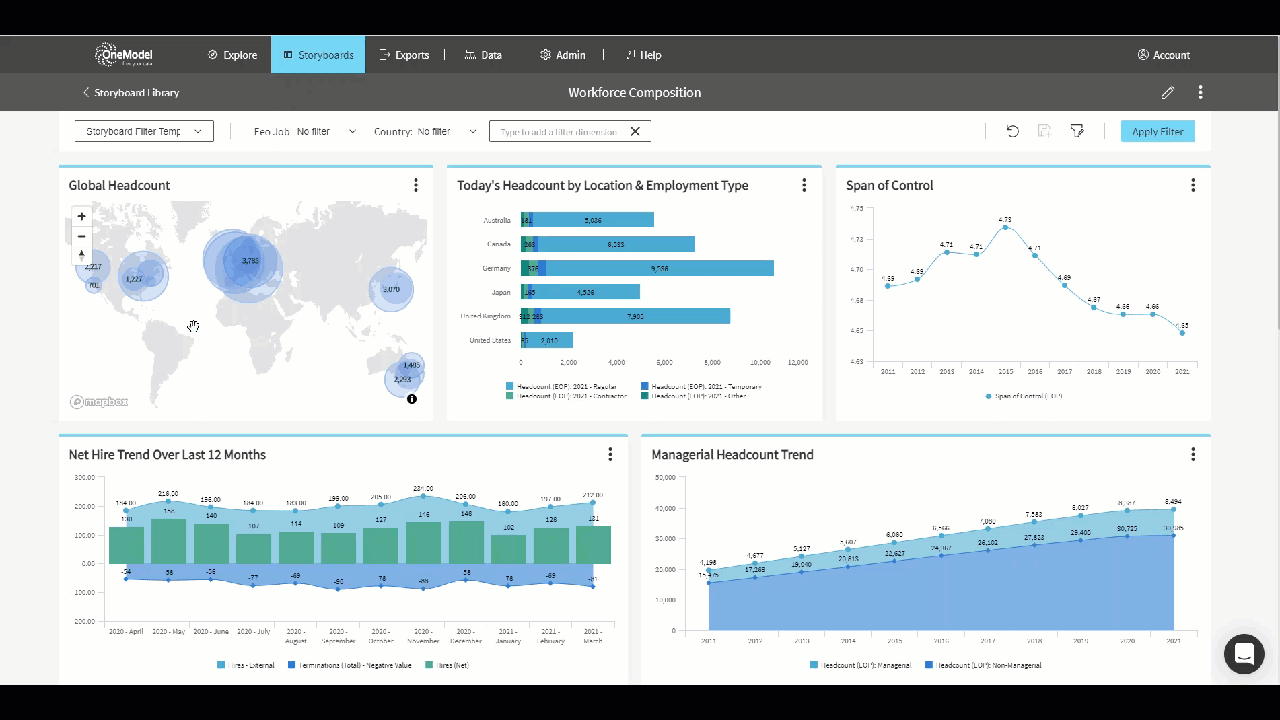 Forecasting
OneAI (One Model's Machine Learning, Artificial Intelligence and Predictive capability) is best in class and unique in the People Analytics space. Joe Grohovsky wrote a really nice overview of OneAI recently so check it out if you want to learn more. A big part of our product vision is to also democratize AI and provide tactical decision support across the entire One Model platform. Leveraging OneAI's powerful forecasting engine we added a fast real-time forecaster within Storyboards for all users. One Model's forecasting runs in real-time and has interactive support for interpreting the data providing confidence intervals and details of the underlying forecast algorithm.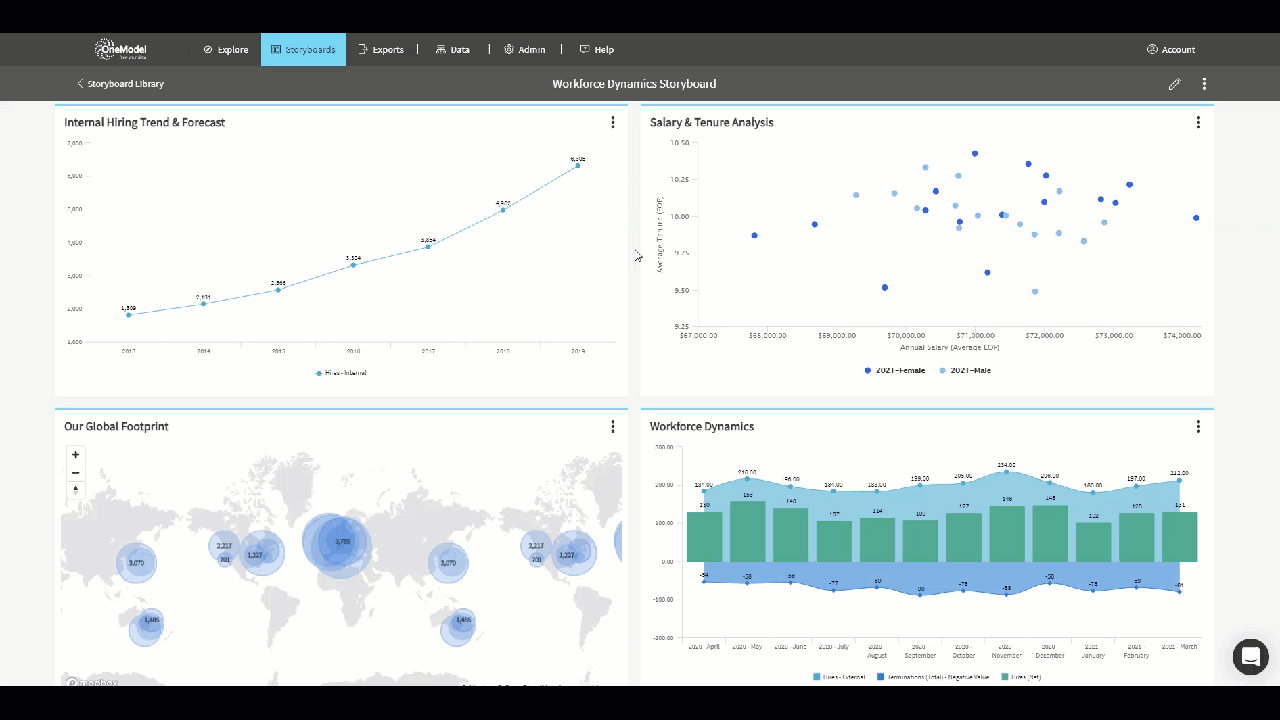 Filter Search
We kicked off 2021 with a major enhancement to how users can navigate analytical dimensions with a powerful filter search capability. This is a really fast way to find items within large multi-level dimensions and works for any dimension you add to the Storyboard filter bar.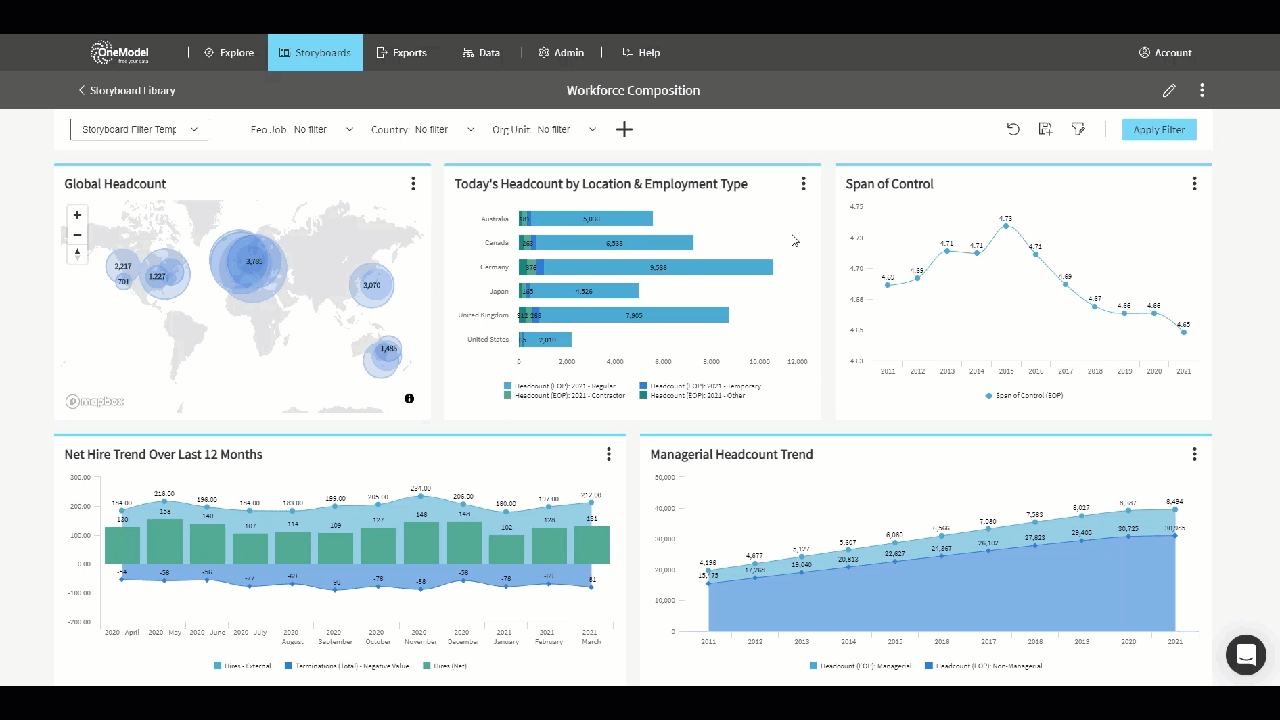 Export Storyboard to PowerPoint
While most of the business world works online, in most business meetings everything still gets distilled into a slide-based presentation of some sort. To help customers more easily leverage content from One Model for these presentations we have developed an ability to export a Storyboard to PowerPoint slides. We chose this format because it is compatible by most common presentation platforms such as Google Slides.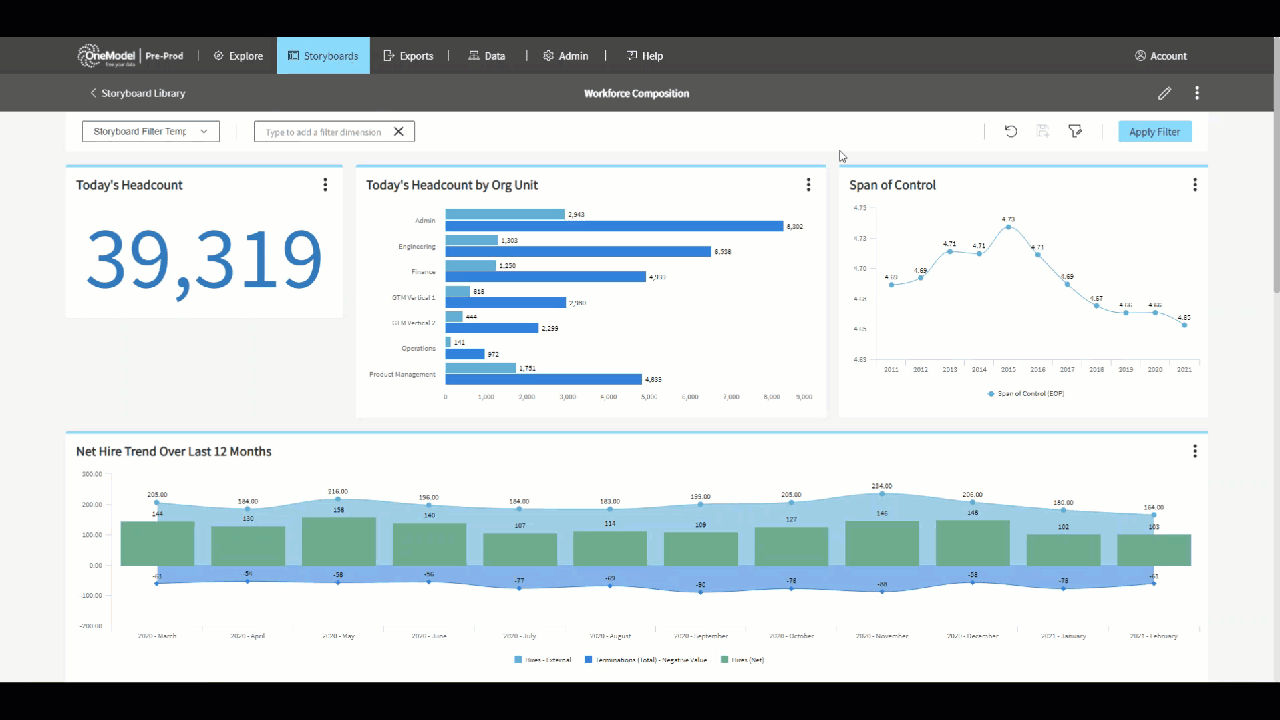 Data Visualization
We have also been working hard on our underlying data visualization capability and completely replaced our framework for charting. The new charting framework provides a powerful new platform to extend One Model's visualization library for customers to deliver tailored insights. In the first instance we are delivering all the capability available in Storyboards today, but we have also taken the opportunity to add some finesse to the visualizations and a range of new features, such as:
a significant increase in the range of configurability options for charts that can all be applied directly from within the Storyboard edit page
changes made in the design panel happen instantly making it a much faster, more intuitive experience. As well as all current settings we have included some new options and will be adding more based on customer input. Notable new features include the ability to control chart axis scaling, axis min/max, data label formatting & positioning, legend positioning, metric styling (lines, columns, bars, area etc.) bar width & padding. We have also improved the interactivity and hover/highlighting experience.
once you have set everything just how you like it, you can also duplicate your tiles to speed up content creation and retain all of your formatting settings as you go.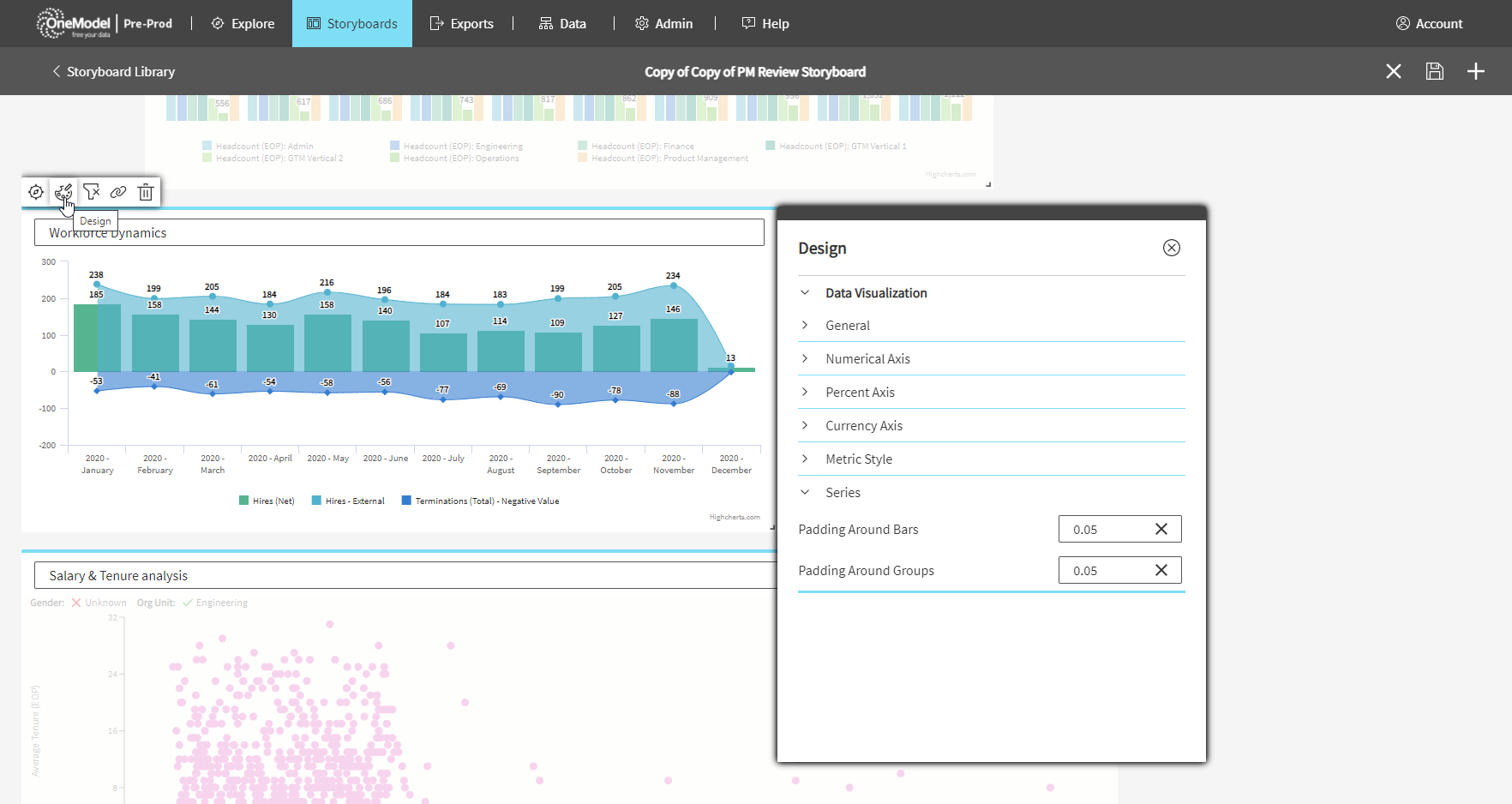 These are just a few of the major highlights of One Model's recent innovations. Things move fast, so watch this space for more exciting product updates soon. Thanks again to our amazing team and customers for the close collaboration to achieve our shared vision.
One Model provides a people analytics platform that pulls together all your workforce data into one place for faster, better, evidence-based workforce decisions through flexible storyboards and advanced machine learning.