April 2022 Product Update
A key part of One Model's product vision is to democratize AI in HR with the use of advanced analytics, so that everyone can make better, more informed decisions. This is made possible by seamlessly embedding machine learning and AI capability within our Storyboards and putting embedded insights in the hands of all users, particularly HR Business Partners and People Leaders.. By giving people analytics teams the most transparent and ethical machine learning tools for HR data analysis, forecasts and projections can better inform people decisions. Building responsible AI dramatically reduces bias and other negative outcomes that can taint decisions supported by legacy HR systems. One Model now has the most trustworthy AI in HR because we have focused on the democratization of machine learning and built in transparency at every point in the process.
Along the way, we've made the People Analytics Data Mesh concept a reality with features like deep linking, which responsibly extends people analytics to the rest of the organization while saving considerable time navigating and swapping data between them. Be sure and contact us to learn more about this important release of One AI. Let's dig in and learn more.
Delivering Actionable Analytics Through Deep Linking
One Model's People Data Cloud™ platform helps customers pull data together from across all their disparate systems into a unified analytics workspace. We have now delivered a "deep linking" capability, which lets you create a dynamic hyperlink from data within One Model Storyboards back to the customer's own enterprise applications. These universal links work across the product to take you back to your original source. It's one of those ultra-convenient features that, from a practical perspective, save tons of time that was traditionally spent navigating between systems, copying and pasting links, searching for corresponding records, and so on.
For example, in One Model you might be viewing a Storyboard to do with Talent Acquisition. Now you are able to configure specific data within the Storyboard, such as requisitions, or candidates with a deep link, meaning you click through into the source system, e.g. Greenhouse, or Smart Recruiters to open details of the requisition, or candidate. This is the essence of actionable analytics.
We developed this in collaboration with a number of customers and this capability works for any systems that support deep linking.
There are lots of different scenarios, for example linking to Employee Profiles or Vacant Positions in your HRIS, viewing details of people in a succession pool, and tracking progress on learning goals. Connect with our team to discuss other scenarios for your company.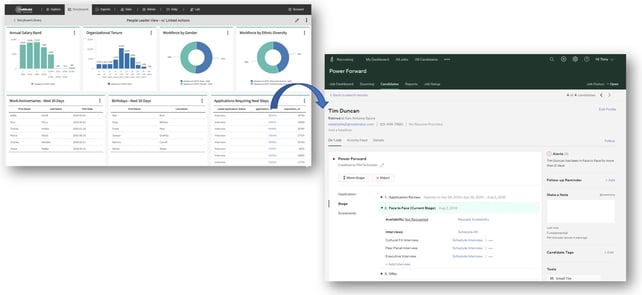 So Storyboards are now, in essence, meshed with source data systems, wherever that data might exist in the enterprise.
---
Would you like to see these features live? Sign up for a Demo:
---
We're Putting Ethical People Predictions into Even More Hands with
One AI version 2
One AI is responsible for artificial intelligence and machine learning capability within People Data Cloud™, and its hallmark is ethical outcomes. This release represents a significant step toward One Model's mission to democratize AI by making transparent, ethical machine learning in human resources and people analytics.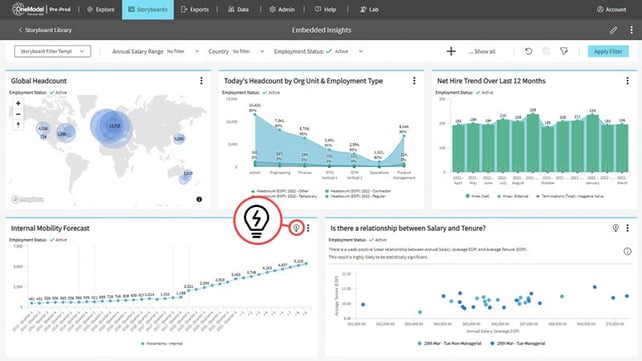 Output from One AI has been overhauled to allow for richer storyboards. Consumers of these storyboards can fully understand the quality, drivers, and methodology used to generate each prediction.
A highly-advanced new forecasting capability is available through One AI v2. It's embedded in Storyboards and is an additional option to the current forecaster. Advanced Forecasting brings seasonality and changepoints along with a range of other substantial improvements under the hood.
It's a foundational predictive analytics capability for One Model. The HR and data science communities can expect even more exciting features like this moving forward.
One AI users are getting more accurate, trustworty forecasts, richer historical analysis, and a range of performance and stability improvements. New outputs and changepoints deliver immediate value to analysts and decision makers.

Taylor Clark, Head of Data Science
For more information:
1. Related Deep Linking Release Notes
2. Request a Demo