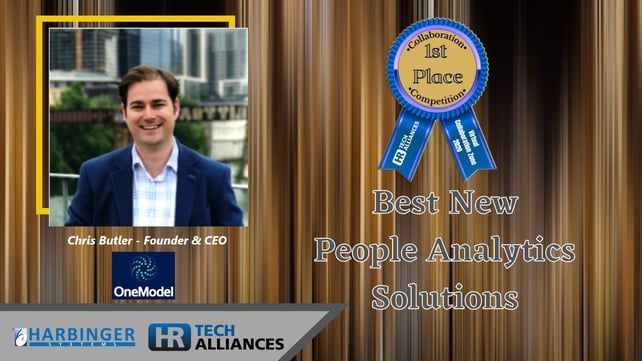 This week One Model was delighted to participate with an elite group of our industry peers in the HR Tech Alliances, Virtual Collaboration Zone - Best New People Analytics Solution competition.
I'm excited to share some detail on what the judges saw to justify the outcome. This wasn't an empty competition either and had some significant companies in the field. The overall scores were as below:
1st - One Model - 4.28
2nd - activ8 intelligence 4.06
3rd - Visier - 3.93
Given how proud I am of our team for winning this award, I thought I would share our presentation.
Before I do that, I would like to acknowledge how far the pure play people analytics space has come in recent time. As an industry, this is something that we should celebrate as we continue on a path of innovation to deliver better products and better outcomes for our clients.
People analytics is an exciting place to be as 2020 comes to its (merciful) conclusion!
We'll take a quick tour through the highlights of our presentation and demonstration.
Who are we?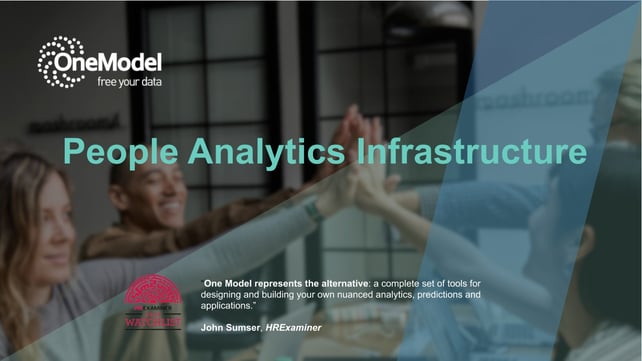 One Model provides its customers with an end to end people analytics platform that we describe as an infrastructure.
We call it an infrastructure, because from the ground up - One Model is built to make everything we do open and accessible to our most important stakeholder - you the customer.
Everything from our data models to our content catalogues, right down to the underlying data warehouse is transparent and accessible.
One Model is not a black box.
Over the last five years, we have been guided by the principle that because of One Model's transparency and flexibility - our customers should feel as if this is a product that they built themselves.
Our History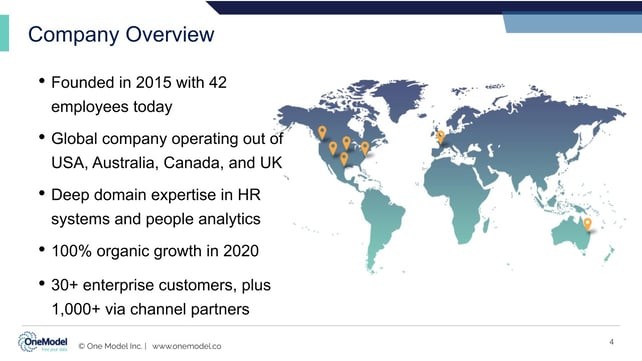 For those of you who are unfamiliar with the history of One Model, the core of our team is derived from workforce analytics pioneers InfoHRM. InfoHRM was acquired by Successfactors in 2010 and subsequently SAP in 2012.
During our extraordinary ride from humble Australian business to integral part of one of the world's largest software companies - our team learned that while our solution gave low maturity users what they needed in terms of the what, why and how of measuring their workforce.
Our solution remained an inflexible tool that customers outgrew as their own capabilities increased. With an increased sophistication, customers were asking new and more complicated questions and the solution simply couldn't evolve with them.
Five years later and sadly, this is what we continue to see from other vendors in our space.
Meeting our customers where they are on their people analytics journey and supporting them through their evolution is fundamental to the One Model platform.
Be Open; Be Flexible; Don't put a ceiling on your customers capabilities.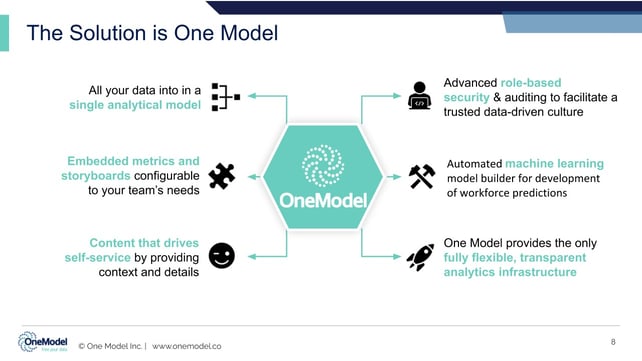 One Model takes care of the hard work of building a people analytics infrastructure.
We built One Model to take care of both low maturity users, who need simple and supported content to understand the power of people analytics.
At the same time, we need to deliver an experience that customers grow into and higher maturity users can leverage world-leading One AI data science and statistical engine. Furthermore, if they want to use their own tools or external data science teams - their people analytics platform should enable this - not stand in its way.
One Model's Three Pillar People Analytics Philosophy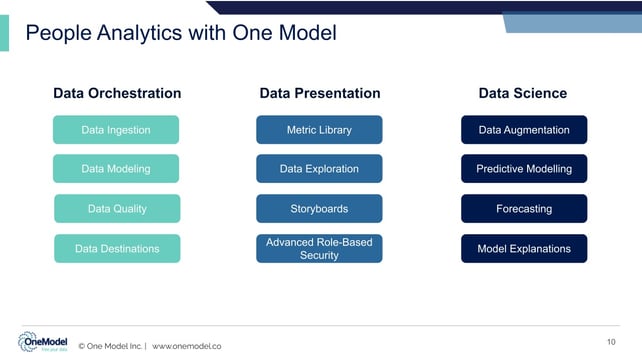 Pillar 1: Data Orchestration
People data is useless if you can't get access to it. Data orchestration is critical to a successful people analytics program.
At One Model - Data Orchestration is our SUPERPOWER!
Many thousands of hours have been invested by our team in bespoke integrations that overcome the native challenges of HR Tech vendors and provide full, historic and transactional extracts ready for analytics.
This isn't easy. Actually, it's terrifyingly hard.
Let's use Workday as an example; To put it mildly, the data from their reporting engine and the basic API used to download these reports is terrible.
It's merely a snapshot that doesn't provide the transactional detail required for analytics. It's also impossible to sync history as it changes over time - an important feature given the nature of HR data. You have to go to the full API to manage a complete load for analytics. We are 25,000 hours in and we're still working on changes!
To power our data orchestration, we built our own Integrated Development Environment (IDE) for managing the enormous complexity of people data and to house our data modelling tools. Data quality and validation dashboards ensure we identify and continue to monitor data over time for correction.
Data destinations allow us to feed data out to other places, many of our customers use this to feed data to other vendors or push data to other business units (like finance) to keep other business units up to date.
Unlike garden variety Superpowers (like flying), our data orchestration capability did not develop by serendipity or luck. It developed and continues to develop by the hard work and superior skills of our team.
Pillar 2: Data Presentation

Most other vendors in our space exist here. They don't provide open and flexible toolsets for Data Orchestration or Value Extraction / Data Science.
When we started One Model, we hadn't planned on a visualization engine at all. We thought we could leverage a Tableau, Looker, or Birst OEM embedded in our solution.
After much evaluation, we just couldn't deliver the experience and capability that analyzing and reporting on HR data requires. Generic BI tools aren't able to deliver the right calculations, with the right views across time, in a fashion that allows wide distribution according to the intense security and privacy needs of HR.
We had to build our own. Ultimately our vertical integration allows unique user security modelling, integration of One AI into the frontend UI, all while not limiting us to the vagaries of someone else's product.
Our implicit understanding of how HR reports, analyzes, and distributes data required us to build a HR specific data visualization tool for One Model.
Pillar 3: Data Science / Value Extraction - One AI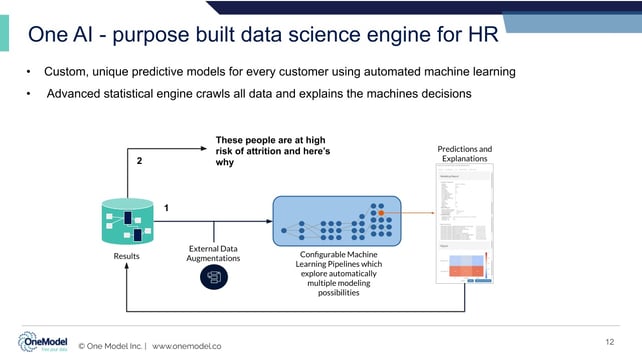 I like to describe the third pillar of our people analytics philosophy as our 'Value Extraction' layer.
This layer is vertically integrated on top of our data models, it allows us to apply automated machine learning, advanced statistical modelling, and to augment and extend our data with external capabilities like commute time calculations.
Predictive capabilities were our first target and we needed to build unique models at scale for any customer, regardless of their data shape, size, or quality. A one size fits all algorithm that most other vendors in the HR space provide wasn't going to cut it.
Enter automated machine learning - Our One AI capability will look across the entire data scope for a customer, it will introduce external context data, select it's own features, train potentially hundreds of models and permutations of those models and select the best fit.
It provides a detailed explanation of the decisions it made, enough to keep any data scientist happy.
The best of all these models can be scheduled and repeated so every month it could be set to re-learn, re-train, and provide an entirely different model as a fit to your changing workforce.
This unbelievable capability doesn't lock out an experienced team, but invites them in should they wish to pull their own levers and make their own decisions. The One AI engine is now being brought to bear in a real time fashion in our UI tacking forecasting, bayesian what if analyses, bias detection, anomaly detection, and insight detection.
We have barely scratched the surface of the capability and our vertical integration with a clean, consistent data model allows these advanced tools to work to deliver the best outcomes to customers.
Labor Market Intelligence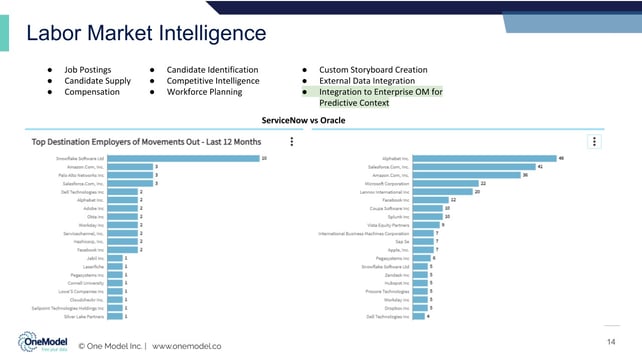 One Model has the world's best understanding of your internal HR data set; we do wonderful things with the data you already have - but we were missing the context of the external labor market and how that impacted our customer's workforces.
As a result, we have developed a proprietary Labor Market Intelligence (LMI) tool. LMI is being released in January 2021 as a standalone product providing labor market analytics to our customers.
LMI retains the functionality that you love about our people analytics platform - the ability to flexibly navigate data, build your own storyboard content, and drill through to granular detail.
Importantly what LMI will allow for One Model enterprise customers is the ability to link external market data to internal people data. Delivering outcomes like identifying persons paid lower than the market rate in their region, identifying employees in roles at risk of poaching due to high market demand and turnover, and helping you understand if your talent are leaving for promotions, or lateral moves.
Collaboration with the HR Tech Ecosystem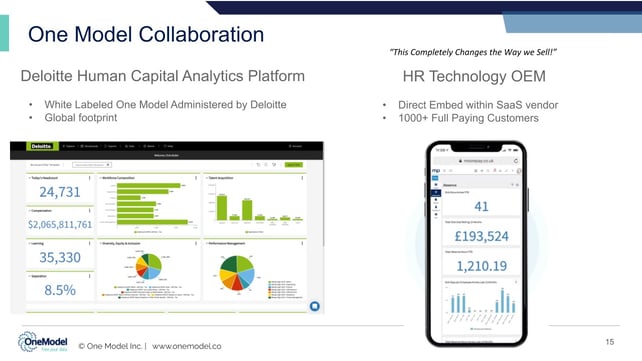 Finally, One Model understands the power of collaboration in the HR Tech ecosystem.
We are already working with leading consultancies like Deloitte and are embedded in HCM vendors helping consume and make sense of their own data to deliver people analytics and extract value for their customers.
At the end of the day, our vision is to understand the entire HR Tech ecosystem at the data layer, to help customers realize their investment in these systems, and to provide a data insurance policy as they transition between systems.
Analytics is a by-product of this vision and thankfully it also pays the bills ;)