It's a great time to be in management, right?
According to a Harvard Business Review survey, we live in a world where trust is at an all time-low; 58 percent of respondents admitted to trusting strangers more than their own boss.
Meanwhile, Uber's giving an average of 5.5 million rides a day. (The average Uber driver rating is 4.8/5 stars, by the way.)
5.5 million people are trusting a complete stranger to get them the airport, but not their own managers.
Workplace Trust
Trust promotes confidence in the company's future. A high level of trust encourages employees to work more effectively, engage with their work and peers, and allows them to be more productive overall.
One could say it's both a cause and effect of a company's culture. Every day, we make decisions (consciously or unconsciously) based on the trust we have in each other. Each and every one of those decisions either encourages or discourages trust.
So where did the workplace trust supposedly go? How should companies and managers work to build more than trust? How are we, as people analytics professionals, working to measure, track, and improve workplace satisfaction altogether?
This article doesn't unlock a magical answer, but here are some good KPIs to keep on your radar:
Absenteeism Rate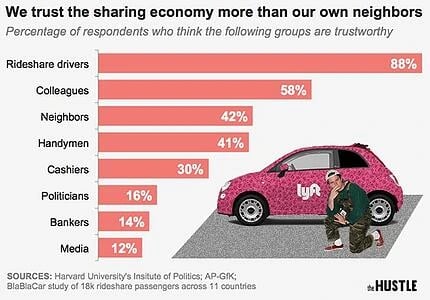 Employees who are present, on-time, and hitting their goals and deadlines are going to be more engaged, satisfied employees. Those who aren't…might not be singing the company's praises.
Monitoring absenteeism and cross referencing with other KPIs is a good place to start.
Employee Turnover Rate
According to Office Vibe, only 12 percent of employees leave an organization for more money. On the other hand, 89 percent of bosses believe their employees quit because they want more money. Hmm.
Is the company conducting exit surveys? Tracking why employees are leaving is vital, in addition to measuring additional metrics such as turnaround under specific managers, departments, or within specific minority groups.
Is there a pattern in turnover? Perhaps a specific department, manager, or trigger event is responsible? Do you have predictive models that can help you internalize your data and answer the big questions?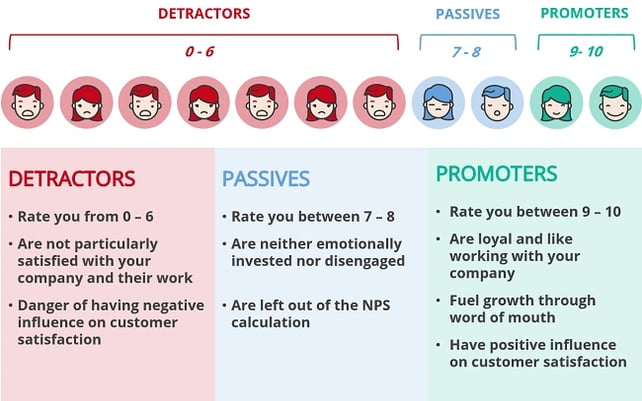 Employee Net Promoter Score (graph above)
The infamous Net Promoter Score, which was originally a customer service tool, was later used internally on employees instead of customers.
The Employee Net Promoter Score (eNPS) measures the likelihood of whether an employee would be willing to recommend your company as a great place to work, (get this - according to research - 59% of employees wouldn't recommend theirs) and whether they would recommend the products or services your company creates.
If you haven't yet started, track your eNPS. Then you can filter the data through a platform where you can see patterns and trends that could have affected the results.
(Quick, shameless plug: you can measure the results and track and monitor changes to these in One Model's people analytics platform to measure company-wide trust-related trends, and to view correlations with other key data and metrics.)
Training
When your car runs out of gas, do you fill up the tank, or leave it on the side of the road? Unless you're from Dubai (and if you are, please send me the Maserati instead - we can work out the delivery instructions in the comments thread), then no, it's not normal for people to do that.
Same with employees. Training for a new employee can cost upwards of 20% of an employee's annual salary. It's better to engage your employees ahead of time than have to constantly rehire new ones.
Employees who are actively choosing to participate in optional company-sponsored training and education programs (and allowed to pursue outside continued education) have been proven to be more invested in both their role and the company, feel more valued, and maintain a high level of loyalty and trust for their workplace. They have a higher likelihood of having a high eNPS score, and fuel company growth through positive word of mouth to their community (and network of prospective employees).
The Summary
For everyone out there that's not a rideshare driver, there's still hope. Yes, it takes extra time digging into the data, and yes, it requires a platform that can help you make sense of the KPIs you're tracking. But not all is lost.
If you're digging into your workforce analytics data - have you considered building predictive models? They can shed light on things like the following:
1) Attrition Rates: Predict how many of your employees are going to leave within the next six or twelve months (based on maybe 30+ factors like manager turnover, whether or not they applied for jobs internally and were rejected, commute time, training attendance and participation, etc., etc., etc.).
2) Manager Toxicity Levels: Is there a lot of turnover under a particular department or manager? Is there high female turnover under a particular male executive? Shed light on what's going on.
3) Recruitment and Hiring: Are you recruitment strategies sound? Furthermore - are you hiring the right people for the job? Where are your best, high-performing sales representatives sourced from? Do you have data to backup your assumptions?
One Model provides people analytics infrastructure - we provide a platform for you to import your workforce data and build predictive models such as the ones listed above (and so, so, so many more). Whether that means creating customized models or going with our out-of-the-box integrations - you get the whole shebang.
We can take data from any source, clean and normalize it, and use it to create these models for you. Then, we provide a means to view your data in these models with nice, simple visualization tools. (Example: think, all three of your last (or future) HRIS systems - all that data - cleaned and normalized from ALL of those systems - living in one place, in clear visuals.)
Want to add data from more sources and see how it affects that model? No problem. The awesome thing is that once a model is built with your data in One Model - you don't have to rework everything and start from scratch if you want to add another source. It can be added right on in. Painless.
Maybe I'm biased because of all the cool initiatives I see our team's data scientists and engineers working on, but I have to admit - I'd give One Model a five star rating.
That's more than I can say for some of my Ubers.
If you'd like to talk to a team member, check us out. We won't force you into a demo; ask us whatever questions you'd like.
About One Model
One Model provides a data management platform and comprehensive suite of people analytics directly from various HR technology platforms to measure all aspects of the employee lifecycle. Use our out-of-the-box integrations, metrics, analytics, and dashboards, or create your own as you need to. We provide a full platform for delivering more information, measurement, and accountability from your team.