Make the right AI purchase for your HR team by knowing the questions to ask.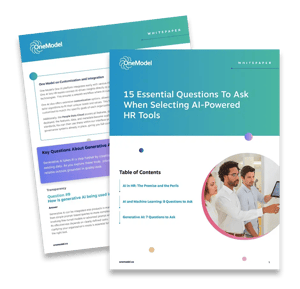 As we enter the age of artificial intelligence (AI) this technology wave has brought forth tools that promise significant changes and dreams of improvements in the human resources (HR) profession. Leaders are scrambling to understand how to make the right purchase decisions when it comes to AI in HR.

Download today to learn:
What is AI and what is Machine learning?
The questions to ask and why you should ask them.
How One Model deals with AI
Discover how much more powerful your people data can become when you pair data analysis with powerful AI understanding and forecasts. Download today.