Case Study

Saving
$2.5M

with the right people analytics partner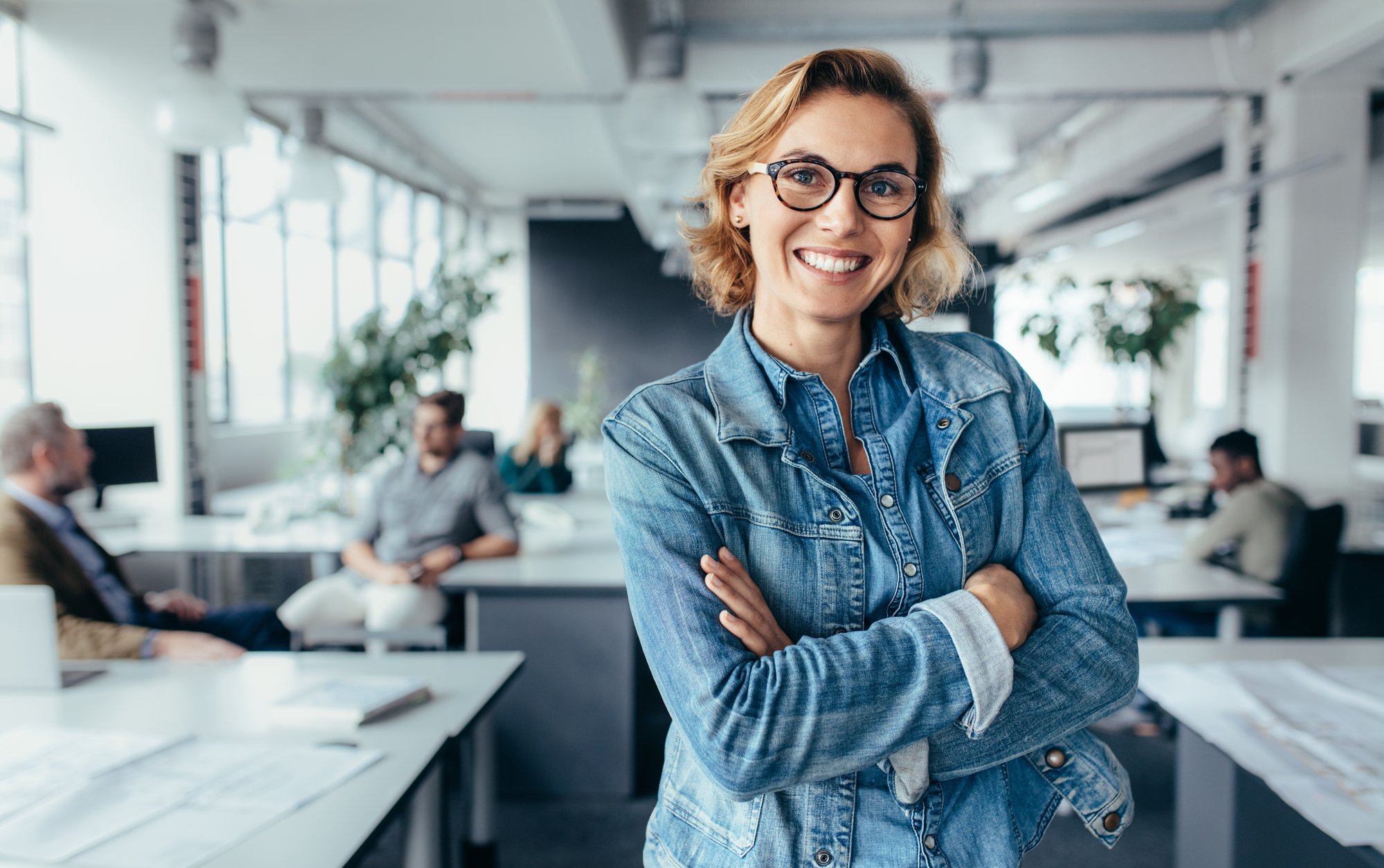 Wins with One Model
30K
Hours of manager time saved
14
HR systems consolidated into one
$2.5M
Saved in just their first year
THE CHALLENGE
14 disjointed HR systems
Tabcorp had large amounts of data held in multiple disparate HR systems, with HR teams forced to manually pull data from these systems and place them into spreadsheets to run reports on even the most basic people metrics like headcount, staff turnover, leave balances, and training compliance. The Tabcorp brand is an amalgamation of five different gaming and media assets The Lott, Keno, TAB, SkyRacing, and MAX. This led to a complex web of multiple HR systems, each delivering a different output for the Tabcorp People and Culture team. "There is a recruitment system, a core HRIS, a performance system, a learning and development system, a listing system, a health and safety system, and a recognition system - how on earth is anyone supposed to make any sense of this?" said George Colvin, Formerly Tabcorp's People Analytics and Insights Lead. Only George had access to all 14 systems, and 44% of Tabcorp people leaders said that systems and processes didn't support them to get their work done effectively."
THE SOLUTION
A single, comprehensive PA platform
One Model delivered a complete solution, including:
Out-of-the-box context, including hundred of people metrics ready to analyse including headcount and full-time equivalent numbers at any given time (full history)
Training/course completion
Employee recognition
Remuneration, leave, and turnover
Demographics - diversity and inclusion
Build-in user capabilities to drill down to the individual, source data, metric definition, and internal benchmarks
Out-of-the-box storyboards focusing on the key issues that were front-of-mind at Tabcorp, with data refreshed daily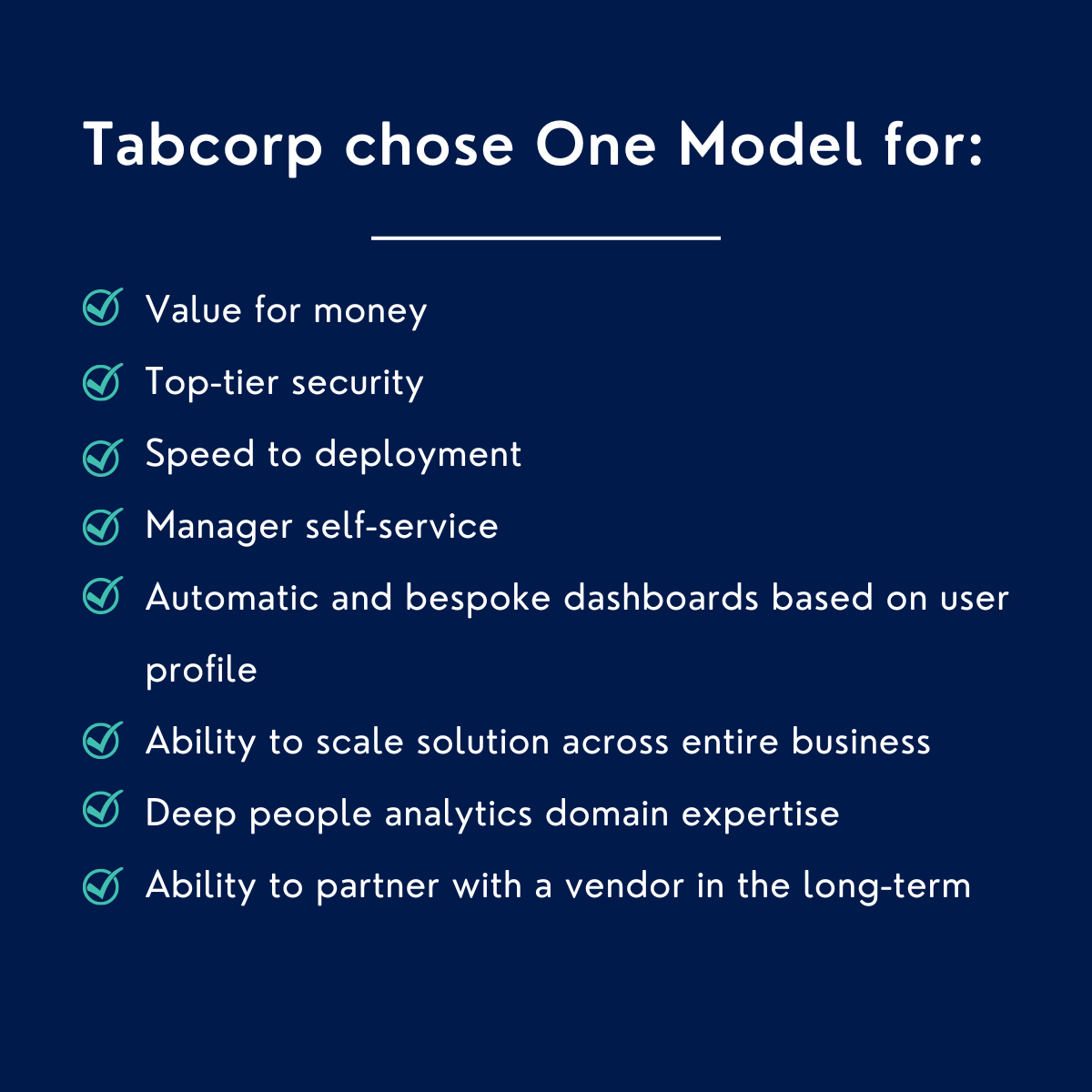 A smooth implementation
While continuing to conduct their business as usual roles, Tabcorp's people analytics teams led their One Model implementation. At the conclusion of the implementation, Tabcorp had:
Onboarded seven years of historical information from their core HR system
Conducted a "high velocity pilot" experience with 30 of Tabcorp's leaders over a three-week period
Consulted Tabcorp executives about the project and designed, with One Model input, an intuitive, relevant, and secure user experience
Trained over 700 interval leaders across every state and territory to self-serve using the One Model system
Generated specific analytics for each of those 700 leaders
Dynamically assigned information based on the leader's position, location, etc. and allowed them to see just their specific information
Rolled out the entire programme nationally, starting with satellite offices in the Northern Territory, Western Australia, Tasmania, and South Australia, and two weeks later for NSW leaders, followed shortly by Queensland and Victoria
High adoption rates from Tabcorp stakeholders across the company
THE RESULTS
$2.5M in savings in Year 1
Tabcorp advised that One Model is saving each manager one hour per week on pulling data from different systems to get important information about their people. Managers were able to repurpose this time to work with their teams on core business activities. Extrapolated out over a year, that amounts to over 30,000 hours of manager time saved. This brought $2.5 million in savings to Tabcorp in their first year with One Model.
"Now that we have all of our data in one place through One Model, we are really excited about the next steps in our journey with them utilising their full suite of predictive analytics, insights, and machine learning," says George Colvin.
Incredible time to value
With $2.5M saved in just the first year with One Model, Tabcorp's Finance team is loving the ROI they're seeing after adopting the people analytics system.
More data-driven decisions
By centralizing their HR systems into One Model, Tabcorp can easily access better HR insights and make smarter talent decisions.
Aligning HR & Finance
Leaders from HR and Finance can use One Model to build data storyboards from the same reliable datasets, creating a powerful partnership and answering their pressing business questions.
Ready to learn more about

One Model

?
Fill out the form, and we'll be in touch! About One Model
One Model's people analytics solutions help thriving companies make consistently great talent decisions at all levels of the organization. Large and rapidly-growing companies rely on our People Data Cloud™ people analytics platform because it takes all of the heavy lifting out of data extraction, cleansing, modeling, analytics, and reporting of enterprise workforce data. One Model pioneered people data orchestration, innovative visualizations, and flexible predictive models. HR and business teams trust its accurate reports and analyses. Data scientists, engineers, and people analytics professionals love the reduced technical burden. People Data Cloud is a uniquely transparent platform that drives ethical decisions and ensures the highest levels of security and privacy that human resource management demands.
For more information visit, www.onemodel.co