Org Chart products present visual context to the organisational structure and have been around for decades, yet HR teams and managers have never been satisfied with these products - why?
The real challenge is not drawing an org chart; the biggest challenge is in assembling the right data. One Model's people analytics platform already does this by blending and automatically updating data from across multiple systems, handling employees, contractors and vacancies, properly dealing with time and date-effective data, applying detailed role-based permissions, and providing rich analytical insights and employee-level details in the same user experience. So we've included these technologies and launched One Model's Org Chart creator, an innovative new feature to solve Org Charting once and for all.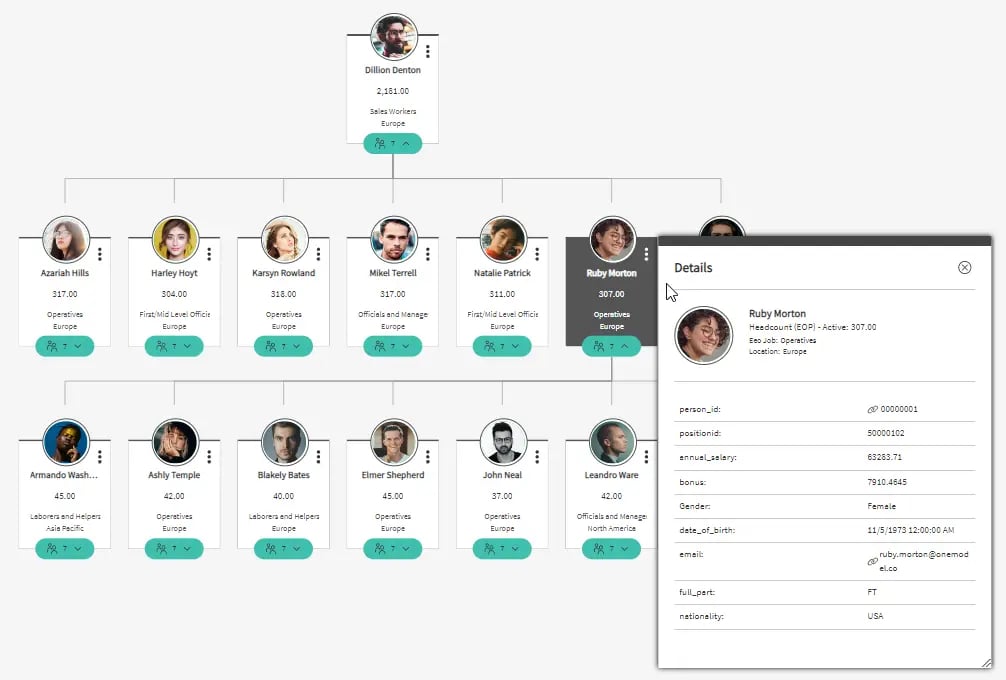 Why are Organisational Charts Important? The basics.
Organisational charts visually represent the company's structure providing clear lines of authority and business reporting. Employees can see their direct supervisor, who they report to and who to contact if a work-related issue arises.
Managers and business leaders can visualise the workload of their teams and individuals and easily understand the span of control. Org Charts can also help with restructures and promoting company strategy and goals.
For HR managers, Org Charts give visibility into which roles need filling in the organisation and areas for new positions.
However, the traditional HR Org Chart only gives you a limited set of information. It tends to be highly static and easily outdated, whereas the One Model org chart includes analytical insights and employee-level detail and the data is automatically updated nightly.
What You Get When You Combine People Analytics and Org Chart
One Model's Org Chart provides not only a visual representation of your company's structures, for example by Supervisory, Managerial, Organisational Units, Cost Centers, Locations etc. but it blends and automatically updates data from across multiple systems making it really simple to explore and discover your insights using these structural or hierarchical views.
Metrics (e.g. Span of Control, Retention Rates, Ready Successors and Engagement Index), as well as dimensions (e.g. Gender, Employment Status) and detailed column data (e.g. Employee ID, Position Number, Date of Birth and Hire Date), can all be included with the Org Chart providing rich analytical insights and employee level detail.
The Org Chart can be configured to include a deep linking capability that takes you from a data item in the chart to that record in the source system. This saves tons of time with bookmarks, copying URLs, and otherwise navigating through source systems and redirects. You can pin an Org Chart to your Storyboard for sharing and communicating your insights with the business, and One Model has also ensured that your data access and role-based permissions are automatically applied to control what data elements a user is allowed to view. This ensures sensitive and restricted data remains anonymous. Genius.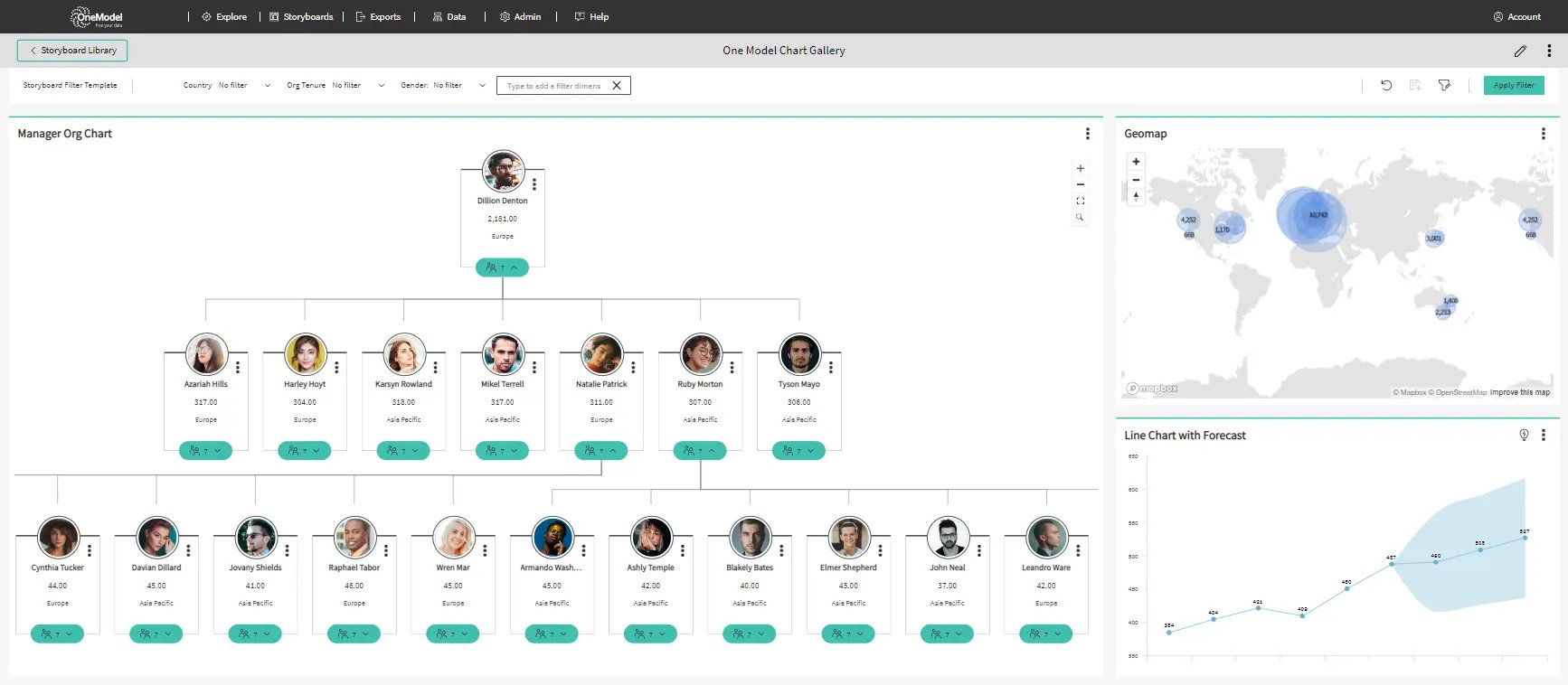 Key Features of One Model's new Org Chart
Whether you are managing HR resources, onboarding new employees, tracking team KPI's or planning out hierarchy changes, One Model's organisational chart software helps you visualise your company structure whilst providing inline insight to identify potential problem areas and make data-driven decisions. Additionally, an org chart can provide detailed level information, including employee photos, contact information, position information etc. which can improve clarity and communication for a business.
In the long run, organisational charts can save businesses time and money by helping to avoid problems before they occur.
Here are some key features of One Model's new Org Chart:
Show Any Hierarchy (e.g., Supervisor, Managerial, Org Units, Cost Centers, Locations)
Drill Down at Any Level
Include Metrics (e.g., Span of Control, Retention, Ready Successors, Engagement) and Detailed Column Data (e.g., Employee ID, Position Number, Hire Date)
Search the Chart
Time Filter
Pan and Zoom
Expand and Collapse
Wrapped in Existing Role-Based Security
Embed in Storyboards
Export to PowerPoint
Want to see One Model's Org chart maker in action?