In the rapidly evolving landscape of Human Resources (HR), where technology and automation are reshaping the way businesses operate, the role of HR tech influencers has taken on paramount importance. As organizations navigate this dynamic environment, insights from trusted HR influencers have become indispensable in making informed decisions, adopting innovative tools, and embracing data-driven strategies. A testament to this influence is the recognition of Richard Rosenow with the "2023 Top HR Tech Influencer" award.
The Role of HR Influencers in Technology Adoption
HR departments across the globe have been in the process of transitioning over the last 15 years. From a subjective people operation to one of the most important analytical business assets. At the forefront of this transformation are the HR influencers whose insights and expertise have been guiding HR leaders through the emerging technology jungle and helping expand the roles inside their teams. in their HR strategies. The annual list of "Top 100 HR Tech Influencers," curated by Human Resource Executive and the HR Technology Conference & Exposition, serves as a testament to the pivotal role these influencers play in shaping the HR technology landscape.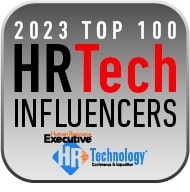 This list, now in its fifth year, comprises a diverse array of professionals, including analysts, consultants, and practitioners, who collectively represent the vanguard of HR technology thought leadership. Their contributions extend beyond their respective fields, encompassing thought-provoking perspectives, innovative solutions, and a deep understanding of the synergy between technology and HR.


How do you become an HR Influencer?
Becoming an HR influencer entails a journey of expertise, innovation, and consistent value delivery. Richard Rosenow's path to becoming an HR influencer exemplifies this process. With a background rooted in HR and technology, Richard leveraged his real-world experience building and leading people analytics teams to create insightful content and share actionable strategies across various platforms. Through engaging articles, speaking engagements, and thought leadership on LinkedIn, he demonstrated a deep understanding of HR technology's evolving landscape. Richard's dedication to staying updated on industry trends, sharing real-world solutions, and fostering meaningful connections established him as a trusted voice. His deep sense of caring and creating goodwill has also made him a friend to many. By consistently adding value, addressing pain points, and offering innovative perspectives, he garnered a dedicated following. One Model is honored to have Richard on our team. As a previous customer and evangelist who exemplifies our values, we could not be happier to have him on our team.
More about the 2023 HR Tech Influencer Award
The year 2023 marks a pivotal juncture in the realm of HR, with automation and generative artificial intelligence redefining traditional workplace dynamics. These advancements have underscored the need for HR operations to be optimized for efficiency, agility, and adaptability. HR departments are increasingly turning to technology to streamline processes, make informed decisions, and enhance overall organizational performance.
The selection process for the "Top 100 HR Tech Influencers" list is rigorous and thorough, spearheaded by the editorial team at Human Resource Executive in collaboration with the HR Technology Conference organizers. The primary objective is to identify individuals who possess the transformative power to reshape how technology is leveraged within the HR industry.

Rebecca McKenna, senior vice president of the HR portfolio at ETC, emphasizes the significance of this year's cohort, especially given the rapid advancements witnessed in HR technology. These influencers stand as beacons of reliable guidance, offering organizations across the globe profound insights and dependable advice.


---
Interested in talking to Richard and the One Model team? Let us know!
---


In conclusion, in a world where technology and HR are intricately intertwined, HR influencers have emerged as essential conduits of knowledge and innovation. Richard Rosenow's upcoming recognition underscores the significance of their contributions, reminding us that the path to HR excellence is paved by those who illuminate the way forward.