Find our team in a city near you, and stop by in person to learn more about our workforce analytics solutions.
February 9, 2018 - Austin, TX - The One Model team recently returned from the People Analytics and Future of Work (PAFOW) in San Francisco, where we participated as a key sponsor and speaker. There, our CEO, Chris Butler, was invited to announce a preview of our latest feature: One AI.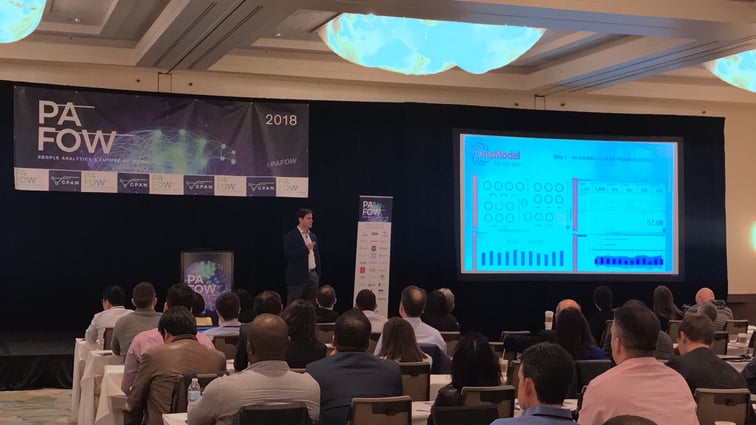 (Above) One Model CEO, Chris Butler, announces One Model's newest tool: One AI, at PAFOW in San Francisco.
One AI is a huge leap into the future of workforce analytics. Finally - there's a tool that makes machine learning readily accessible to HR professionals
. By applying One Model's full understanding of HR data, our machine learning algorithms can draw a parallel, predicting any target that our customers select.
For example, this means a turnover risk predictive model can be created in minutes; consuming data from across the organization, cleaned, structured, and tested through dozens of ML models and thousands of hyperparameters to select a unique, accurate model that can provide explanations and identify levers for reducing an individual employees risk of turnover.
Our Next Stop: London
The One Model team will be showcasing One AI at the People Analytics World Conference in London this April. We invite HR professionals, people analytics experts, and partners to join. Come find the One Model team and learn more about our workforce analytics software for HR professionals and data scientists.
If you'd like an opportunity to meet the team in person and learn more, we'll be attending the following events later this year:
People Analytics Conference

- London, England - April 11-12, 2018
HR Technology Conference and Expo

- Vegas, NV - September 11-13th, 2018
More events, TBD.
"As One Model continues to expand our client base in the U.S. and abroad, we're looking forward to participating in more international HR, data science, and AI events," says One Model's Senior Marketing Manager, Stacia Damron. "Both domestic and international trade shows have helped us showcase our workforce analytics solution to a broader, more diverse audience, and they offer us an opportunity to foster and maintain valuable relationships with clients and partners alike."
About One Model:
One Model provides a data management platform and comprehensive suite of people analytics directly from various HR technology platforms to measure all aspects of the employee lifecycle. Use our out-of-the-box integrations, metrics, analytics, and dashboards, or create your own as you need to. We provide a full platform for delivering more information, measurement, and accountability from your team.