The Power of Combining Data Sources

Am I weird for having a favorite metric that I always pull once I connect a customer's HRIS and Recruiting data for the first time? Oh well. Let's talk about my favorite merged source metric: First-year attrition by recruiter! I think it's one that can be useful for managing a recruiting function, but it's also a helpful classroom example to explain why we all need to merge recruiting and HR data.
Connecting data across HR systems can be a tricky problem, but with the right tools, it is possible to gain valuable insights into employee behavior and business outcomes. In the video above, we explored how One Model can be used to blend data from different HR systems and gain insights into key metrics such as new hire turnover rate.
---
Join the Conversation on Linkedin
---
Segmentation is Key to Understanding Why Additional Data Sources Matter
One of the key features of One Model is the ability to quickly break down data into more meaningful groups. Peter Howes will back me up in saying HR data without segmentation is worse than useless. To expand on my video example, by grouping turnover rate by year, we can get a better understanding of the overall trend in general employee retention. Additionally, by narrowing our employee outcomes analysis to specific subsets of employees, such as those who joined the company within the last year (or gender, department, etc), we can gain insights into specific areas of concern, such as early termination rates. But we can get these insights with data from 1 system. What happens when we combine data from say, our recruiting platform?
You have the Power When You Join HR Data Sources
Another powerful feature of One Model is the ability to connect data from multiple systems, such as recruiting data from your ATS and core workforce data from your HRIS (to use my video example). You can now make discoveries that actually improve processes within your organization. By connecting who has turned over with who actually recruited that person, we can make leadership decisions and work with L&D on potential coaching opportunities.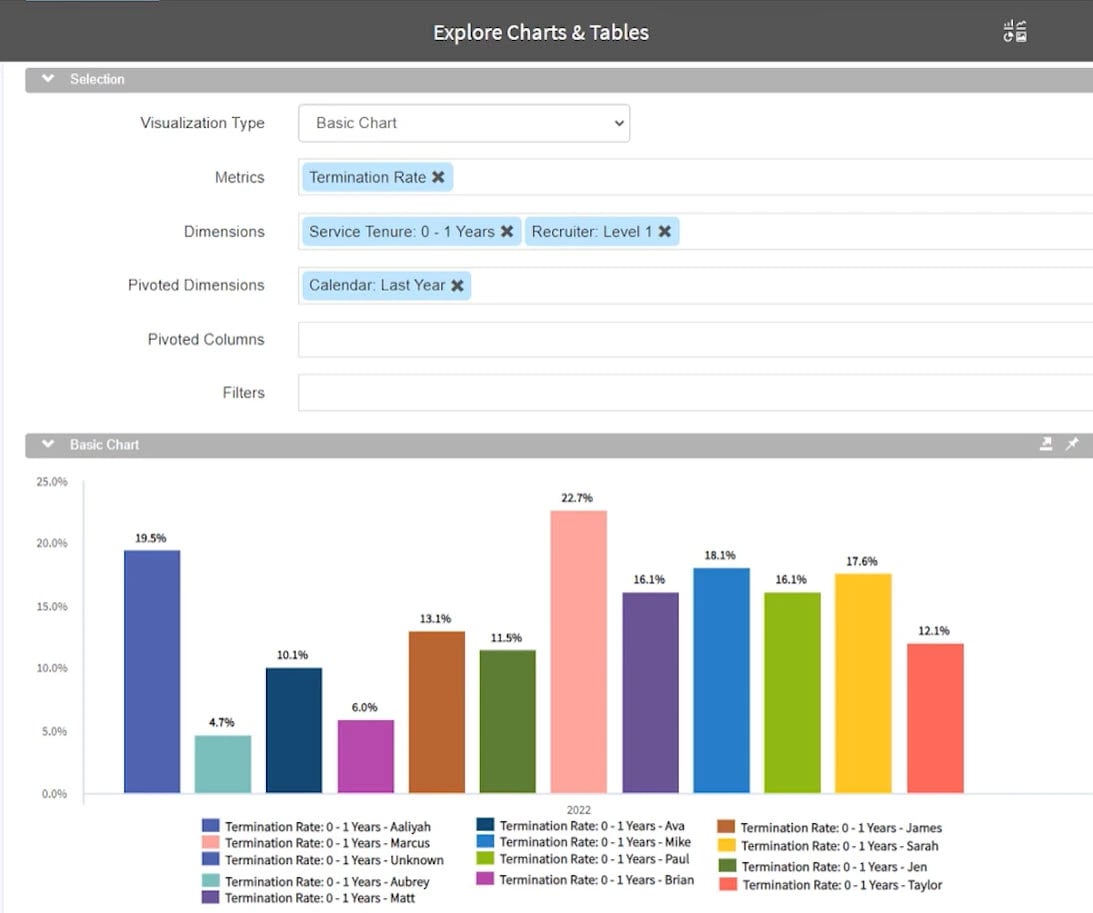 Finding the "Why" After You Merge Recruiting and HCM Data
Many people analytics teams (whether through intensive spreadsheet work or quickly using a tool like One Model) can create these insights, but interpreting these insights still requires the nuance and care of an HR analytics leader. Many struggle with providing the "why" behind the data. If you ask a seasoned recruiter they most likely will say that the number one reason is probably related to the applicant feeling mislead in the hiring process and that could increase new hire turnover. But are there other factors at play? Start with an exploratory data analysis and then get sophisticated with an AI engine that non-data scientist can actually use.


Overall, the Explore tool in One Model makes it easy to connect data across HR systems and gain valuable insights into employee behavior and success rates. Whether you are an HR professional or a business leader, this tool can help you make data-driven decisions and improve your organization's performance.
---
Want to See Phil Merge More Data?

Schedule a Demo Today