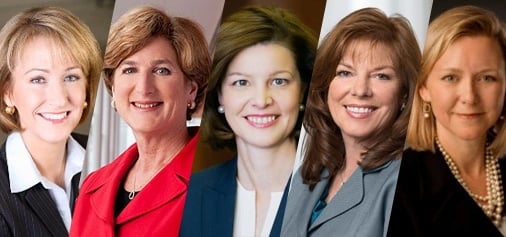 It's sounds ridiculous, but it's true. According to the New York Times, 4.2% of women held CEO roles in America's 500 largest companies. Out of those same 500 companies, 4.5% of the CEO's were named David.*
While shocking, unfortunately, it's not incredibly surprising. Especially when a whopping 41% of companies say they're "too busy" to deploy diversity initiatives. But for every company out there that's "too busy", there are plenty of others fighting to get it right.
Take Google, for example. In 2016, Google's tech staff (specifically tech roles - not company-wide roles) was 1% Black, 2% Hispanic, and 17% women. They announced a plan to invest 150 million in workforce initiatives. The tech staff is now 2.5% Black and 3.5% Hispanic/Latinx, and 24.5% female, according to their 2018 diversity report.
So what does that mean?
It means that even the brightest and most innovative companies have their work cut out for them in regards to improving diversity. Change doesn't happen overnight.
Diversity breeds innovation; a diverse talent pool leads to diverse ideas. Get this; a Forbes article touts that transitioning a single-gender office to a team equally comprised of men and women would translate to 41% in additional revenue.
"Metrics" (which is just a fancy word for data btw) don't lie. It's important to set, track, and monitor workforce diversity goals - especially when we have more tools than ever at our disposal to do so.
Over the past few years, here at One Model, we've seen a huge push for placing a priority on monitoring diversity metrics. In 2016, a Fortune 100 financial services organization, Company X (name anonymized) selected One Model's platform to measure and monitor company-wide trends in diversity data and metrics.
As their people analytics and workforce planning solution, One Model allowed them to not only better report on their data - but also more easily track and monitor changes, determine key KPIs, and see how improvements they're making internally are affecting the data.
More Accurate Data = Better Reporting.
During Company X's transition from SAP to Workday, they used One Model to retrieve and migrate survey data. This platform allowed them to combine and normalize the data from several sources, enabling the team to report off of it as one source.
The successful migration provided the HR team with the recovered data and prevented the team from having to redeploy the survey, allowing them to more accurately reflect their current diversity metrics and progression towards goals. This was a win.
Here's the challenge: When pulled together, the data referenced above indicated that out of several thousand employee responses, a number of employees failed to select or identify with one of the given race selections. This represented a sizeable portion of the employees.
One Model's software helped them identify this number. Once they realized this, they realized they had an opportunity to setup other processes internally. They did just that - which helped identify 95% of the employees who fell within that group, obtaining vital missing data that raised the percentage of diversity within the organization.
Determining Key KPIs and Measuring Improvements
Furthermore, Company X used the One Model platform to identify and reward the departments that successfully hit their recruitment-based diversity goals.
This allowed the team to survey these departments and identify the hiring trends and best practices that led to these improved diversity metrics. By identifying specific process and KPI's surrounding these diversity metrics, departments that successfully met their goals could share recruiting tactics and best practices to ensure appropriate actions were taken to maximize diversity throughout the whole of the recruiting pipeline.
Company X is currently implementing these processes and working towards replicating a similar outcome amongst other departments in need of workforce diversity improvement.
Tracking and Monitoring Changes
Last but not least, Company X wanted more visibility into why females had a lesser presence in managerial roles within the organization.
While, male to female promotions were equal. (This past year, 32 people were promoted. 55% of promotions (16 people) were women), there were significantly more males than females in managerial roles.
Upon reviewing the data, they learned that out of the company's requisitions, females applicants only made it to certain stages within the interview process (namely, an in-person interview) 50% of the time. Half the time, the only applicants that made it to a particular stage were male.
They determined a hypothesis surrounding a particular KPI - that if more females made it to this particular stage, the odds were higher that more females would fill these roles.
Company X set a goal that they wanted a female candidate make it to a manager interview stage 80% of the time. They are testing different methods on how best to achieve this, and with One Model's help, they are able to measure the effectiveness of those methods. By providing this visibility, One Model's platform is currently helping them monitor their progress towards this goal, and allows them to see the affect - the direct impact on numbers of M/F managers in real-time.
Company X is one of the many companies that has realized and embraced the importance of diversity in workforce planning. We're confident they'll eventually hit their goals, and we're proud to be a part of the solution helping them do so.
Is your company ramping up it's People Analytics Program or diving into workforce diversity initiatives?
One Model can help you better view and report on the data associated with your diversity goals. Here are just a few of the top metrics companies are currently focusing on:
Recruitment Metrics
Representation Metrics, such as:


Minorities / URMs
Veterans
Women
IWDs

Staffing/Placement Metrics
Transaction Metrics
Training Metrics, such as:

Penetration of diversity-related training, general training participation rates, and demographics of talent pipeline

Advancement Metrics
External Diversity Metrics
Culture / Workplace Climate Metrics
*based on 2016 NYT data.
---
Want to see what One Model can do for you?
Scheduled some time to chat with a One Model team member.
---
About One Model:
One Model provides a data management platform and comprehensive suite of people analytics directly from various HR technology platforms to measure all aspects of the employee lifecycle. Use our out-of-the-box integrations, metrics, analytics, and dashboards, or create your own as you need to. We provide a full platform for delivering more information, measurement, and accountability from your team.